I hope all of you are prepared for my HUGE revelation. I know some of you are going to think, "you are a horrible Mom," but I promise this isn't my normal behavior. I am normally picky about what my children eat. I don't allow lots of sweet sugary stuff and junk food, but I have let that slack a few times this week. I have an excuse though......
Joe is the youth minister at our church and we have kids over all the time and they are CONSTANTLY bringing junk food and leaving it. So last week our Preacher brought Donuts for Study Monday and left them when the kids didn't eat them. So what did Joe Braden want for breakfast Tuesday Morning? Yep.....you got it Donuts! I tried so hard to refuse and really I did say no first, but he gave me that look. He so played on my weakness of not being a morning person. What can I say I had a weak moment. I had him on a sugar rush before he joined his 17 Kindergarten peers. PLEASE DO NOT tell Mrs. Brewer or I may be in D-Hall!!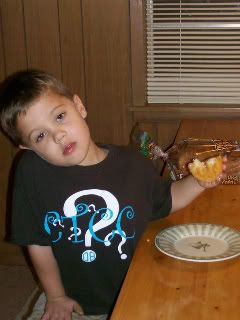 If this isn't bad enough one of our youth girls made Chocolate cupcakes and left them here. The boys didn't want to eat dinner one night when Joe was working late so I.....get ready...... BRIBED, yes I said it, I BRIBED them with a cupcake. WHY oh WHY am I so WEAK?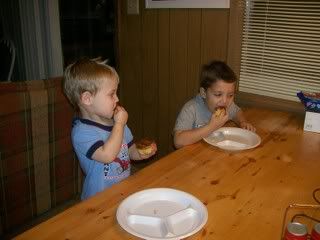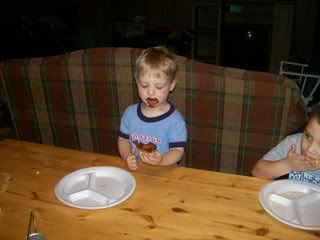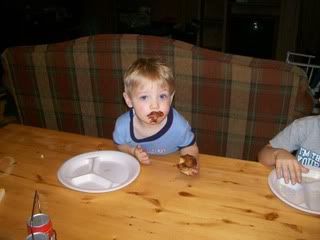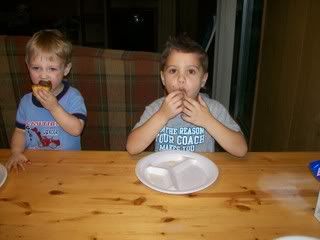 So to prevent being "weak" again I have decided we MUST get a visit from the Halloween Fairy this year. Haven't heard of her? Well I got the idea from a friend. They go through their candy Halloween night and decide what they really like, and you give them a limit on how much they can keep. We are taking what is left and putting it on the porch before bed. I told the boys the Halloween Fairy will come and take the candy and leave them a small gift instead, and she will take their extra candy to children who did not get to Trick or Treat. Then I will take the candy to our local food bank for them to use during the holidays. That way we still get the thrill of going to Trick or Treat but not have so much candy to eat. Not to mention Mommy is addicted to Chocolate and if it is here I will gain the 20 pounds I have lost, back!