Saturday Joe worked most of the day, but early evening when he got home he realized the boys and I were stir crazy. Seeing as we live 35 miles from anything to do, we didn't have a lot of options. We thought about driving the 35 miles, but I really wasn't up to driving for 1/2 an hour, and then end up getting home late. Not to mention we couldn't think of anything there to do that was kid friendly unless it was movies and there wasn't anything to see. None of us wanted to shop and the weather was too cold for anything outdoors. So after some contemplating we decided to go on a Country Drive, or as Joshua would say a "Crunchy" drive!
Being that we live in an extremely small town it didn't take much driving to get into the country, oh it was maybe a whole 3 minutes or so! We had to make a few stops first and then we were off.
Our first stop was to Good Ole' Dairy Queen for drinks and Daddy a sandwich since he missed lunch. The boys had a Strawberry Arctic Rush to split which is a real treat!
Then we had to have gas so that just in case we got lost or something!
Then we were off! We decided to go down a little road not far from home. We had never been down this particular road so it made it seem like a true adventure. Our first 2 miles we were chased by several dogs. It was hard to get a good picture, but this was the best I could do from the car and not having to get out and risk being bitten!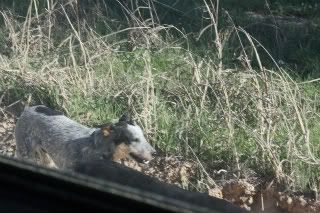 Then we came to this kind of ugly little creek, but it was a cool little place and the boys enjoyed looking so we decided it was picture worthy.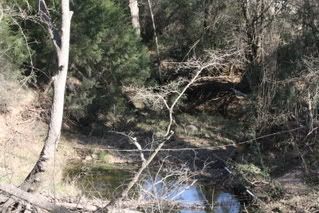 Next we came to our first fork in the road. We stopped for a minute to decide which way we should go. We decided from that moment that we would take a right at every fork in the road.
We saw tons of cows, horses, dogs, and red birds which we all thought was neat! We were driving along though and saw this precious baby calf and it was right next to the fence so we stopped and rolled down the windows and the boys talked to it! It was too cute, but he didn't quite like the camera and ran when we started shooting.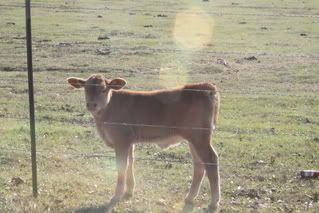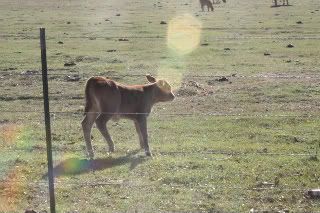 After a long drive we decided at the last fork and go to the left. We were fairly certain the Highway was right down the road and we had a 5 year old that had had too much in his bladder, and by this time Joshua had fallen asleep. We ultimately woke Joshua up shortly after we returned home so that he would sleep through the night. After eating breakfast for supper we put the boys to bed, and since it was the weekend we allowed them to sleep together. When I went to check on them, this is the sight I found. Aren't they CUTE and peaceful!