Over Christmas Break we spent 6 days with my parents. We had a wonderful visit, but as we all know, Grandparent houses aren't always child proof. I am actually one of those Mom's who believes house proof the child, not child proof the house, but that is for a different post. Of course even though I feel that way there are obvious temptations I do keep put away, so that my curious little Joshua doesn't get himself into a mess that
I
have to clean up!
So on Friday of our visit I decide that he can just take a nap without me, I mean he was exhausted and I was cooking, so really he would be out in 10 min, what could happen??? Well first he got into a gray marker! Thank the Lord it was
Washable
!
So of course I learn my lesson and decide to put him back down, but in the pack-n-play instead of just on the full bed. Well I go back to check on him and he had found my over-night bag with my
BRAND NEW
Beauty Control Moisturizer, and decided to use it as hair gel! What was I thinking you ask, well that I had a Peach Cream Tart that had to be finished in 2 hours to leave for a family gathering. So needless to say he got a quick bath, and a very late nap that day, and ended up not sleeping well that night. What was I thinking?????????? At least we have good memories and pictures!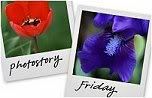 Hosted by Cecily and MamaGeek