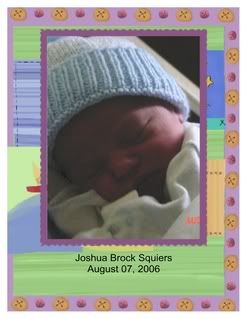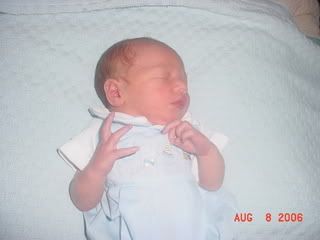 These are pictures of my precious baby boy when he was hours old and when he was a day old. I miss those baby days. A few weeks ago, I would have told you that I was perfectly content not having another natural born child. We feel that we will be called to adopt at some point in our lives. I have talked about it with family and a few friends and was totally for it, that is until Monday I was told I needed a Hysterectomy.
OK lets back up a bit, I have been dealing with a lot of issues caused by severe endometriosis since the age of 16, yes that is 14 years of my life, so almost half of it. I have known for a very long time that this day was coming, did it make me any more prepared? Well of course not! 9 years ago I had surgical extraction of the endometriosis and it was a severe case, but the doctor got all that she could. She didn't get it all, and we knew it was a temporary fix. My left ovary is severely damaged, but they left it in, hoping that maybe if they left both for a few more years I would have a chance for a child. Well I had one very easily, and we were so excited. Then it came time to try for number 2 and it wasn't quite as easy, but it did eventually happen! God then gave me a third, but it ended all too soon, and I was never able to hold that baby in my arms. After that I decided along with my husband, that I just couldn't go through a loss of that magnitude again, so opted to not try to get pregnant.
Like I said this is a battle that I have been facing since 16! I have had 2 surgeries, the last being 9 years ago. I KNOW that I am BLESSED to have 2 beautiful children and I am blessed that I have been able to go 9 years without much problem. I am still not looking forward to the finality of it all.
I know that God will guide my life in the way it needs to go, I know he has a plan for my future to prosper me and not harm me (Jeremiah 29:11), but now I am just praying for peace. Peace in knowing and accepting this is the plan he has for me. Peace in the fact that adoption may or may not be in my future. Peace and contentedness in the 2 precious boys that I have the honor of raising. I just need to "Let go and let God."
I am so excited that the pain will be gone, but so sad that my chance to bear another one of God's beautiful creations is over. Thank you all for listening and may God bless each of you richly!
For more Wordful Wednesday visit
Angie