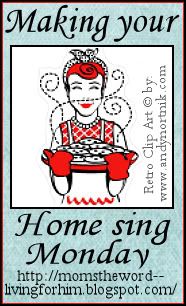 I am doing my Monday Post on Tuesday this week, because of our long weekend!
I am linking up with my friend, Mom's The Word to participate in her Monday meme, "Making Your Home Sing Monday." It's a day when we share what we are doing to bless our families in our home. If you would like to join in, click
here
.
Friday we left town to head for a weekend of Family, camping, and fun. Every Memorial Day we have a family reunion at my Papaw's house on Lake Palestine. It is always a BLAST! On the way there it was pouring rain and just yucky weather. We were pulling in to a place to stop for a minute to discuss where the campgrounds we were staying at could be and there was a
BEAUTIFUL
rainbow. I immediately got my phone ready for a picture. I was so mad that we had forgotten to grab my camera! So I take a picture and start talking to Joshua about this rainbow.
He looks at it and says,
"He put a rainbow in the sky!"
I looked back at him and said, "
Who Honey, who put it there?"
He quickly responded,
"GOD"!
It was such a touching moment! I mean my 2 year old had just given credit, where credit was due!
Don't you wish it was that easy for us to give God the glory? Sometimes I have a hard time making sure to say Thanks or give him credit. Leave it to my 2 year old to teach me a much needed lesson! So for this week I will work on applying this lesson to make my Home sing!