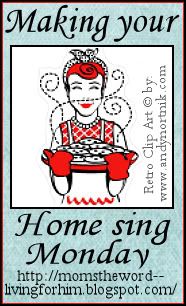 I am linking up with my friend, Mom's The Word to participate in her Monday meme, "Making Your Home Sing Monday." It's a day when we share what we are doing to bless our families in our home. If you would like to join in, click
here
.
Friday night the boys and I took Joe out for his birthday, his birthday isn't officially until tomorrow, but we took the weekend to celebrate. While we were out we saw a man riding a bike, and he just happened to be African American. Well Joe Braden stopped to inform us of the "black" man on a bike. So this made me ask the question, "What do we tell our children to call people of different races?"
I do not want my children to see people for color, gender, body type or any other thing that we label people with. I want them to look at people and see God's handy work. I want them to love everyone no matter their race, ethnicity, social status. I want them to simply love everyone, because that is what we are called to do.
So when this happened I just looked at Joe Braden and said, "Who does Mama tell you we love?" He looked at me puzzled and said, "everyone?". I then said, "yes, and because we love everyone we don't see color." Then he wanted to know, "well what do I say?" This brought me to the above question. So to make my home sing this week I am going to re-enforce the fact that we love everyone, and try to come up with what I should have them say! Any suggestions?