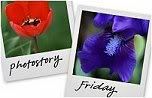 Hosted by Cecily and MamaGeek
A few weeks ago my oldest Nephew turned 10! I can't believe it! He has gotten so big and mature this year it is just so amazing. What happened to that 2 year old that called me Aunt L???? It has been an honor to be part of his life and to watch him grow into the young man he is becoming.
Kyle playing Wii
Wearing his b-day hat!
Drew couldn't wait for his Bubba to open presents!
Opening the Wii Fit
Sarah Beth with Drew and Joe Braden
Joshua was so excited for his "present" AKA goody bag!