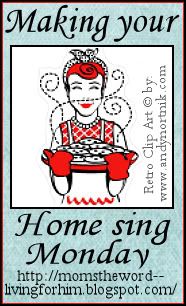 Welcome to the Making Your Home Sing Monday meme! Every day you are doing something to make your house into a home for yourself and your family (if you have one). My point with each Monday post is, what are you doing or going to do today to make your home sing?
It can be an attitude or an action. Motivation, our attitude, baking, encouraging our husband or children (if we have either one), organization, cleaning, saving money....the opportunities are endless. For more Making your home sing visit
Mom's the Word.
I plan to make my home sing this week, by catching up laundry, grocery shopping, and cleaning. Since this pregnancy has been so complicated I haven't been able to do much. I still can't do a ton, but I feel better and can at least do some. We are planning to get someone to come and deep clean, since I am still not supposed to be doing much, but I can do laundry, and de-clutter!
I am so thankful to my husband for helping out and making sure things get done, he is the absolute BEST!