Welcome to the Making Your Home Sing Monday meme! Every day you are doing something to make your house into a home for yourself and your family (if you have one). My point with each Monday post is, what are you doing or going to do today to make your home sing?
It can be an attitude or an action. Motivation, our attitude, baking, encouraging our husband or children (if we have either one), organization, cleaning, saving money....the opportunities are endless. To join in this great meme go visit
Mom's the Word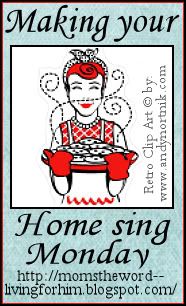 To make my home sing this week, I am getting things ready for our first family trip of the summer. We are not going far away, but we have a very fun trip planned. We are going to Lake Grapevine to camp for a few days, then on the Joe's brother to visit his new home for a night, and we will cap it off with a two night stay at Great Wolf Lodge. The boys are super excited. We have several outings planned like the Ft. Worth Zoo and the Dallas Aquarium, eating at the Magic Time Machine, and a special trip to Build a Bear.
I am working on our menu for the week so that we know what we need to buy and what we already have. We try to eat out only one time a day, if that, and with the camper, it makes it super easy to cook. I am making goodies that we don't have around the house to take with us. We will have Joe's favorite Chocolate cake, Joe Braden's favorite Chocolate Chip cookies, my favorite Banana Bread, and for Joshua, well he is a chocoholic so he will love any of it, and is too young to really have a favorite. We will have his favorite store bought snacks along for the ride though.
I am also washing all the bedding from the camper and getting it cleaned and organized, which is a job within itself! We are all getting super excited! We will be leaving Thursday and returning the following Thursday. I hope to blog and share some pictures from time to time, so watch for fun to come!